Student Research Spotlight
Good sociology is sociological work that produces meaningful descriptions of organizations and events, valid explanations of how they come about and persist, and realistic proposals for their improvement or removal.
~Howard S. Becker
One of the most important and exciting aspects of being sociology student is the opportunity to conduct social research. Many of the required and elective courses for sociology majors and minors encourage students to engage in sociology research and the development of sociological theory. Below are a few examples of student research and other forms of scholarship from sociology students at Concord. Click on the appropriate link to download as a PDF.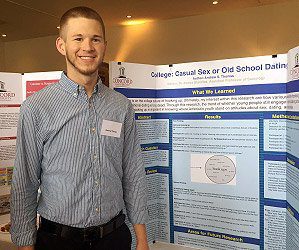 Andrew Thomas
College: Casual Sex or Old School Dating (PDF)
Research Paper

This project explores current attitudes about hook up culture and traditional dating relationships. Through the use of qualitative methods in which interview data from several different college aged students including students of different racial and ethnic backgrounds was compiled, hooking up participants within the ages of 18-24 seem to be more and more common. The preliminary results of this project help determine student's perceptions and definitions on hooking up as well as whether some college aged students believe if traditional dating is dead. This information is useful in helping students make decisions on dating relationships.
Michael Bailey
Shifting Sensibilities: Attitudes toward Same-sex Marriage, Past, Present and Future (PDF)
Research Paper

In recent decades, changing cultural practices surrounding marriage, sexual, behavior and social equality has come into contact with existing social policy regarding the definition of legal marriage. This work is a comparison of historical and contemporary cultural attitudes surrounding same-sex relationships and the establishment and organization of family structures. This discussion suggests that due to the diverse cultural and historical attitudes toward same sex relationships, contemporary ideas that rely on the notion of a persistent heterosexual family as a norm, are unlikely to effectively shape cultural and policy in the future.
Lori Conner
Females Breaking Barriers: Women Entering Law Enforcement and Breaking Down The Gender Barrier (PDF)
Poster Presentation

This research examines how females in law enforcement are viewed in a male dominated field of work in southern West Virginia. Through interviews with participants employed in law enforcement and research from reliable internet databases, the project explores how gender is relevant in law enforcement in our community and the improvement of accepting females into this type of employment. The research illustrates ways to improve female law enforcement job satisfaction and encourage women to apply to these positions.
Christopher Shaun Day
Different Strokes for Different Folks: A Comparison of Heterosexuals and Homosexuals/Bisexuals (PDF)
Poster Presentation

"Hooking up" has been defined as 'a sexual encounter, usually only lasting one night, between two people who are strangers or brief acquaintances.' However, the majority of "hooking up" research only uses samples of heterosexuals. Using data collected from a survey administered to 310 students in the Fall of 2009, an attempt is made to document the similarities and differences between heterosexual and homosexual/bisexual students' "hooking up" behaviors. This study demonstrates that heterosexuals and homosexuals/bisexuals, despite similar backgrounds in other areas, might form their perceptions about "hooking up."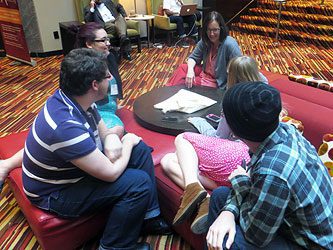 Cory Haines
Part of the Game: Hate Speech in Online Gaming (PDF)
Poster Presentation

Due to anonymity of players, usage of hate-speech language is often seen as an accepted norm in online gaming communities. Through interviewing players of different demographics and participant observation the frequency of hate-speech is estimated. Focus is placed on how players report how different demographics are accepted, treated, and engaged along with a focus on game genre and platform. Non-white, non-male, and non-heterosexual users report higher levels of hate-speech in online game settings. Game genre also serves as a trigger to the use of hate-speech.
Jonathan A. LLoyd​
Targeted Laws and Their Effects on Social Groups (PDF)
Research Paper

Laws that are designed to support the interests of powerful social groups, also known as targeted laws, have been present throughout the history of the US and the use of such laws has primarily acted to benefit a favored social group by while targeting a disfavored group. This work is an examination of three examples of recently passed legislation in the United States that target historically disadvantaged groups based on race, gender and cultural practice. This analysis argues that targeted laws in the contemporary criminal justice system act as means to reinforce the marginalization of historical disfavored group.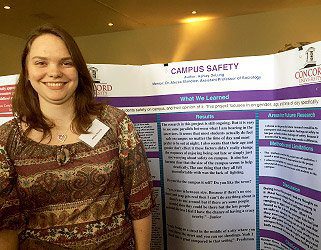 Lynn Shannon
The Correlation of Poverty and Crime: Testing the Anomie Theory (PDF)
Poster Presentation

Crime is a part of all societies, since human behavior inevitable demonstrates some deviation from the collective norms. This work utilizes Merton's anomie theory to argue that the gap between the accepted cultural goals and access to the means in which such goals are achievable is manifested in the current correlation between poverty and crime rates in the US. Data from the US Census Bureau and the FBI's Uniform Crime Report, demonstrate a statistically significant moderate correlation between poverty rates and violent crime in the US.
Shirley White
The Effects of Perceived Religiosity on Approval of Hooking Up and Premarital Sex (PDF)
Research Paper

All the major religions place some restrictions to emphasize "sexual purity" It has been found that religious involvement reduces the odds of "hooking up" at college, and this pattern is directly affected by religious service attendance. I hypothesize that there is a correlation between how religious people perceive themselves to be and whether or not they approve of premarital sexuality and hooking up. Specifically, there is lower rate of approval from those that consider themselves "very religious" in comparison to those that consider themselves "not religious."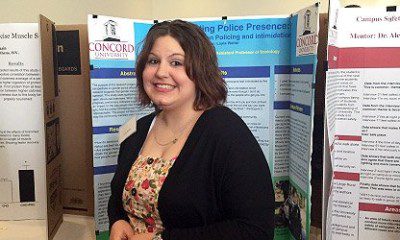 Adam Belcher, Jonathan Brown, Dustin Donohoe, ​Kishonna Horton, Kaylyn Jennings, Jonathan A. Lloyd and Jarod Tupper​
Plug-in and Live: Voices from the Digital Natives (PDF)
eBook

Plug-in and Live: Voices from the Digital Natives is a collection of essays, written, edited and complied by Concord students in Dr. Standlee's SOC 350 Digital Culture and Social Behavior class. The students produced essays that discussed the historical and cultural context of digital culture, gaming and video game culture, social media, and their own relationship with technology. The student essays were combined into an eBook and made available for download at Amazon, Apple's iBookstore, Barnes & Noble and other outlets.