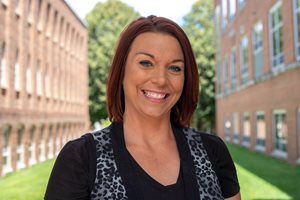 Gordon, Samantha
Title: Assistant Professor of Education
College: College of Professional and Liberal Studies
Department: Department of Education
Phone: 304-384-5148
Room: Marsh Hall 131
Box: D113
"*" indicates required fields
Biography
Samantha Gordon was a student athlete at Concord University and gradated with a Bachelor of
Science degree in Early Childhood Education Special Needs. She then started her teaching
career in the public school system in Raleigh County, in a Pre-K Special Needs classroom. She
spent five years pursuing that career, then decided to try Physical Education, where she spent
two years. She obtained her Multi-Categorical certification and started teaching Multicat.
Special Education, and there she fell in love and found her passion. While teaching Special
Education, she earned her master's degree in Educational Leadership from Concord University.
While not teaching, she loves to spend time with her husband and their two boys, enhancing
her knowledge in special education, coaching basketball, and supporting Mountaineer sports!
Education
MA, 2020, Education Leadership, Concord University
BA, 2009, Early Childhood Special Education, Concord University
WV Certifications
Early Childhood Pre-K-Kindergarten
Preschool Special Needs
Physical Education PreK – Adult
Special Education Multi-Categorical PreK – Adult