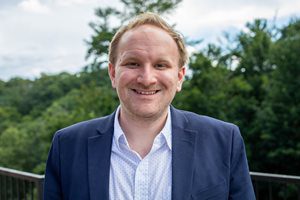 Abrams, Jacob
Title: Chief Organizational Development and Success Officer
Department: Title III
Phone: 304-384-5395
"*" indicates required fields
Biography
Jacob Abrams is the Director of CU Forward | Title III at Concord University. Mr. Abrams has extensive experience in both the public and private spheres spanning financial aid policy, workforce development, legislative initiatives, grants acquisition/compliance, interdisciplinary research, program evaluation, and data analytics. Prior to joining Concord, Mr. Abrams served as a Research Associate for the Harvard-Smithsonian Center for Astrophysics and oversaw FAFSA completion initiatives for the West Virginia Higher Education Policy Commission. His portfolio at Concord includes institutional research, innovations in career development and online learning, as well as strategic initiatives.
He is a summa cum laude Phi Beta Kappa graduate of the College of William and Mary, and also completed a Visiting Studentship at Oxford University. He holds an EdM in Higher Education from the Harvard Graduate School of Education.
Education
Ed.M., Harvard Graduate School of Education (2018)
BA., The College of William and Mary (2015)
Research
Mr. Abrams' current research interests focus on ways data-driven policies, programs, and practices can improve access, affordability, and post-graduate success of students. Other research interests include the impact of educational change on democracies, technology, and economies, educational choice and career access, and paternalism in education.
Selected Works:
Abrams, J, Sadler, P. & Sonnert, G. (2024). STEM Career Pathways of Homeschool and Public School Students. Manuscript in Preparation.
Martin, M., & Abrams, J. (2021). The Dawn for a New Era for Higher Education. The Promise of Higher Education: Essays in Honour of 70 Years of IAU, 283-291.
Abrams, J. (2015). Disaster and Discourse: Reactions to the 1906 Courrières Colliery Mine Disaster.