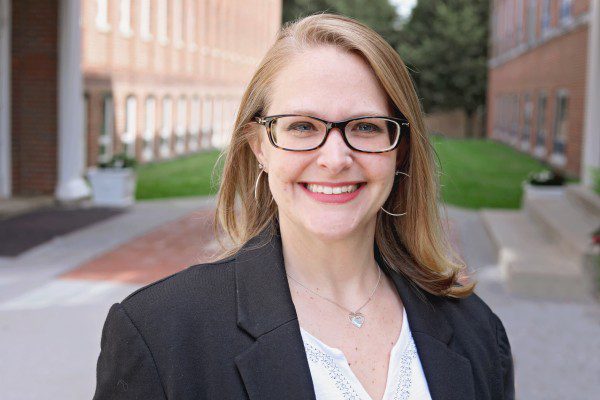 Nutter-Pridgen, Kathryn
Title: Assistant Professor of Sociology
College: College of Professional and Liberal Studies
Department: Department of Social Work and Sociology, University Assessment
Phone: 304-384-6026
Discipline: Sociology
Room: Marsh Hall 215
Box: F-42
"*" indicates required fields
Biography
Dr. Pridgen has been a faculty member in the Sociology program at Concord University since 2017. She is currently Director of Women's and Gender Studies, which facilitates both the WGST minor and opportunities for education and awareness around these issues.
Prior to joining the faculty at Concord, Dr. Pridgen earned several years of teaching experience: as a Visiting Assistant Professor at the University of Alabama – Birmingham, adjunct faculty member at the University of Florida and Santa Fe College, and as a graduate student at Ohio University.
This teaching experience with diverse populations, in addition to research and publications, has allowed Dr. Pridgen to cultivate multiple specialty areas within Sociology, including: identities, inequalities, and intersectionality (race, class, gender, and sexualities); social psychology (especially in the field of wisdom studies); families; and social movements. She also has specialized training in research design, qualitative methodologies, grant writing, feminist theories, and feminist methodologies.
Dr. Pridgen is passionate about serving students and the campus community. She enjoys acting as a McNair scholar and supervisor of independent research projects. She serves on the University Assessment committee and was elected to be the department representative to the Faculty Executive Board in 2020. Much of her involvement on campus focuses on supporting diversity and facilitating effective research.
Memberships
American Sociological Association (Member since 2005)
Sex and Gender Section (Member since 2005)
Sexualities Section (Member since 2007)
Collective Behavior and Social Movements section (Member since 2011)
Society for the Study of Social Problems (Member since 2011)
Conflict, Social Action, and Change section
Sexual Behavior, Politics, and Communities section
Teaching Social Problems section
Sociologists for Women in Society (Member since 2013)
Sociologists for Women in Society – South (Member since 2014)
Southern Sociological Society (Member since 2011)
Education
Ph.D. in Sociology and Gender, Sexualities, and Women's Studies Research, University of Florida (2015)
M.A. in Sociology, Ohio University (2008)
Certificate: Women's and Gender Studies – graduate
B.A. in Psychology, Ohio University (2005)
Certificate: Women's and Gender Studies – undergraduate
Research
Identity and Inequality:
Race, class, gender, sexuality; social movements; media
Social psychology; wisdom
Selected Research Publications
Nutter-Pridgen, Kathryn L. 2015. "The Old, the New, and the Redefined: Identifying the Discourses in Contemporary Bisexual Activism." Journal of Bisexuality, 15(3): 385-413. (journal article)
Nutter-Pridgen, Kathryn. 2018. "A Cultural Approach to Sexuality: Reviewing Amin Ghaziani's new book Sex Cultures." Sociation Today, 15(2). (book review)
Ardelt, Monika, Stephen Pridgen, and Kathryn Nutter-Pridgen. 2018. "The Relation between Age and Three-Dimensional Wisdom: Variations by Wisdom Dimensions and Education." Journals of Gerontology, Series B: Psychological Sciences, doi: 10.1093/geronb/gbx182 (journal article)
Nutter-Pridgen, Kathryn. 2018. "Book Review: Random Families: Genetic Strangers, Sperm Donor Siblings, and the Creation of New Kin." Sociation Today, 18(1). (book review)
Ardelt, Monika, Kathryn Nutter-Pridgen, and Stephen Pridgen. 2019. "Wisdom as Personality Type." In R.J. Sternberg and J. Glück (eds.): Cambridge Handbook of Wisdom. New York, NY: Cambridge University Press. (book chapter)