Office of Multicultural Affairs
The Office of Multicultural Affairs ensures a diverse and inclusive community of learners, works corroboratively with other university units, builds a capacity to recognize and value difference, encourages and supports positive interactions between and among diverse populations, and maximizes the benefits of a multicultural perspective.
The goal of Multicultural Affairs is to graduate a more diverse student population and to prepare all students to function productively in a rapidly changing global, multicultural society. Diverse cultural interests are promoted through lectures, seminars, theatrical presentations, musical groups, and other offerings. The office coordinates the University's observance and celebration of Black History Month.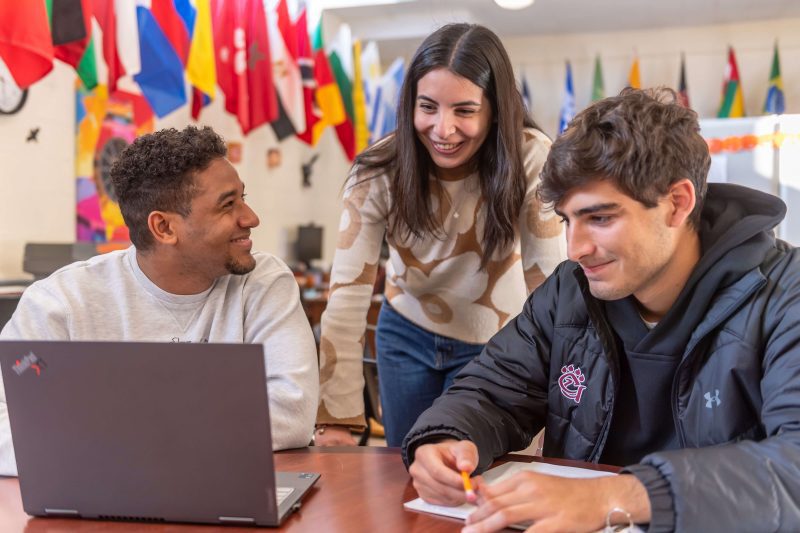 Concord University is committed to offering excellent support and services to our international students. International Student Services provides advisement on immigration matters, health insurance, employment, practical training, travel regulations and community involvement. We also provide programs and services to enhance the stay of our international students, including orientation, social activities and informational sessions. We seek to provide educational programs to the entire campus community highlighting the numerous cultures represented on campus.
Application Process
Follow the link for the application process: International Student Admissions
Coming to Concord University
You are ready to make the trip to Concord University and maybe are wondering: What should I bring? Will someone be at the airport when I arrive? Where will I be staying?
What to bring:
The following is a list of things international students have compiled to make Concord your home away from home:
Passport/Visa
I-20 form
Medicine – It's always good to bring medicine you are used to having. If needed, there is a pharmacy and clinic near campus, but it is nice to have medicine from home if you get sick.
Spices – The Concord International Students Club frequently sponsors trips to the International market in Blacksburg, VA (45 minute trip). However, many students have recommended bringing favorite spices from your home country for that time you just want a taste of home.
Clothes for all seasons – Athens' weather has 4 seasons. For those students coming from warmer climates, bring clothes for winter; the winter months can have temperatures below 0°C/32°F. Preparing for snow means having jackets, hats, gloves, and boots. The summer temperatures can reach 32°C/90°F.
Pictures – Bring pictures from home. It is always nice to be able to see familiar faces, but, don't worry, you will be adding to those pictures with all the new friends you will meet at Concord University.
Traditional clothes (optional) – Every year, usually in April, the International Students host an International Banquet. Students, Faculty, Staff and local residents come to Concord University to eat a variety of foods from your country, watch cultural performances, and see the international fashion show. The banquet and a few other opportunities will come up for you to show off your local dress and customs.
What to not bring:
Bedding – Once you arrive, you will have a chance to go shopping at the local market to pick up sheets, pillows and blankets, or you can order them online. In many students' opinion, the bedding is too big and takes up too much room to bring from home. If you have a favorite pillow, absolutely bring it with you.
For many foods, please ask the airline or customs officials to see what you can and cannot bring.
Getting to Concord University from the Airport
So your bags are packed, your passport, I-20, and plane tickets are in your pocket and you are ready to fly. Now what?
Airport pick up:
Once you land at either the Roanoke Regional Airport in Roanoke, VA Airport or Yeager Airport in Charleston, WV, you will be met by one of the staff from Concord University's International Office. A school van will be there to drive you to Concord University. Both airports are about 1 hour 30 minutes from campus.
Housing:
Before coming to campus, you will be assigned a dormitory. There are 2 residence halls: Wilson Hall (Co-ed), and North (Female) and South (Male) Towers, along with Mill Street housing. When you get to Concord University, the residence staff will have you fill out a form and give you keys to your room. Depending on the time you arrive on campus, we will get your bedding the same day or the day after at the local Wal-Mart.
Bank Account and Campus Box set up:
During the first week of school, there will be trips to the local bank (First Community Bank) to get an account created.
First Community Bank 101 Vermillion Street Athens, WV 24712
Hours of Operation
Monday through Thursday 8 a.m. – 5:30 p.m.
Friday 8 a.m. – 6:00 p.m.
*Closed for all Federal Holidays*
First Community Bank
Also, the staff of the International Office will help create a campus box for any mail.
Questions
Whether it is your first day of school or graduation day you are always welcome to ask any questions you have. We know there will be many questions while you are here. We are more than happy to answer any questions and help in any way to make your stay at Concord University the best. Welcome to Concord University and we look forward to seeing you soon!
F-1 Students: Work Authorization Options
U. S. immigration regulations restrict work authorization for international students. You may begin working as soon as you are a student; however, you are required to get a social security card before you can begin working. In general, there are two types of employment: on-campus and off-campus employment.
On-Campus Employment:
Enrolled F-1 students may work on the campus of Concord University. You may work ONLY 20 hours per week when classes are in session. During school breaks, you may work full-time.
Advantages:
Does not have to be related to your field of study
You may begin working as soon as you are a student
Disadvantages:
A limited number of employment opportunities are available
You can view available campus jobs here
Off-Campus Employment:
After being enrolled for one full academic year, F-1 students are eligible to apply for off-campus employment in their major field of study. This could be full-time during semester breaks or part–time (no more than 20 hours per week) during the academic year. There are two types of off-campus work authorization called "practical training".
Curricular Practical Training (CPT)
Curricular Practical Training allows you to be paid for work in your field of study BEFORE you graduate. The work must either be required for your degree program or you must receive credit in a course for the work. Students may work part-time (20 hours per week or less) during the academic year or full-time during semester breaks.
Advantages:
The application is filed through the International Office and does not have to be sent to the Immigration Service.
Is not subtracted from your 12 months of optional practical training unless you work cumulatively full-time 12 months or more.
Disadvantages:
You must receive academic credit for your work or it must be required for your degree.
Optional Practical Training (OPT):
Optional Practical Training allows you to work in your major field of study and is authorized by the United States Immigration and Citizenship Services (USCIS). After being enrolled for a full academic year, you are eligible to apply for OPT in your field of studies. You may receive one 12-month period of optional practical training for each higher education degree you receive. It may be used before or after completion of studies. Students in certain fields of study may also apply for a 17 month extension of this OPT.
OPT can be used full-time during the summer and winter semester break, or part-time (no more than 20 hours of total employment per week, including any on-campus work) during the academic year. However, the time spent with this type of employment authorization before you graduate will be subtracted from your 12 months of optional practical training after completion of studies. After graduation OPT is authorized for full-time only (not part-time).
Advantages:
Does not need to be for-credit or required for your degree program
Little paper work is required from your employer
Disadvantages:
Must mail in your application to the USCIS with a fee
Takes 60-90 days to get the approval
24-month extension of OPT for students in certain fields: F-1 students on OPT who have received a degree in the fields referred to as "STEM" fields (science, technology, engineering, or mathematics), will have an opportunity to apply for a one-time 24-month extension of their regular 12 month OPT period. Criteria for the 24-month extension are:
Your employer must be enrolled in the "E-Verify" program
You must have graduated and be working in one of the "STEM" fields
You must have maintained status while on OPT
Working for International Organizations:
F-1 students are also eligible to do an internship with certain international organizations. In order to do this, F-1 students need to apply for an employment authorization document through USCIS.
Requirements:
The employment is for an internship with a recognized international organization and is within the scope of the organization's sponsorship.
The student has been enrolled for at least one full academic year.
The employment must be within the field of study
To apply for EAD send the following to USCIS:
A written certification from the organization stating that the proposed employment is within the scope of the organization's sponsorship
An I-20 with signature by the International Student Advisor within the last 30 days
A completed I-765
Fee
Advantages:
Does not have to be for-credit nor required for your degree program
Does not take away from your 12 months of optional practical training after completion of studies
Disadvantages:
Must mail in your application with fee
Processing time is 60-90 days
Economic Hardship Employment
An F-1 student who has maintained F-1 status for an academic year and is in good academic standing may apply for "off-campus employment based on economic hardship". Economic hardship refers to the financial problems caused by unforeseen circumstances beyond the student's control. These financial problems may be the result of the death of a financial sponsor, inflation in the home country causing the devaluation of currency or exchange rate, etc.