Courses for High School Students
About College Courses for High School Students
Concord is here to help you start your journey towards a degree before you earn your high school diploma! Many college students ease their transition to college and achieve their educational goals quicker by taking advantage of college-level courses at a reduced tuition rate while in high school.
Concord University's classes for high school students are rigorously designed to support student success. All courses are taught by skilled college professors or well-qualified teachers in designated high schools. Courses are offered online, in-person, or during the regular school day at participating locations.
Regardless of how a course is taken, high school students have access to tailored, one-on-one support services, including advising, tutoring, & career exploration, at no additional cost.
Who is eligible?
To enroll, students must meet the following qualifications:
Be a junior or senior in high school
Have a 3.0 minimum overall high school GPA
Written recommendation letter from their high school principal or guidance counselor
Submit an application and required documentation for enrollment
How much do classes cost?
All classes are offered at $25 per credit hour, or $75 per 3-credit course. Most courses are 3-credit hours. The Provost's office works directly with students to ensure that any required books and supplies are low or no-cost.
What types of courses are available?
Check out the options below to see which types of courses work best for you:
Testimonials & Tips
Dara Ladner
James Monroe High School – Lindside, WV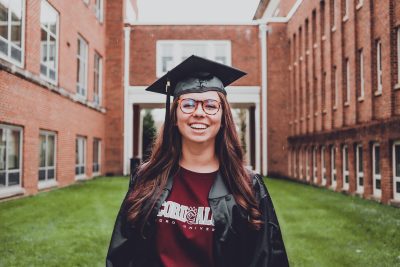 Dara had plans to go to college after high school, so she prepared herself the best could before graduation. Her sophomore year, she took her first dual enrollment class – English 101.
"This seemed like the best decision since it counted towards both my high school and college credits, both of which I would need in the future. My thought was 'why not kill two birds with one stone', so that's what I did".
After seeing how well her first dual enrollment class went, Dara took all of the courses she could possibly take, mindful of how her performance in high school could benefit her future. "I was always an A/B student, but I had a mindset that the college classes counted towards my college GPA (that was hard to get used to in high school), so I strived to do the absolute best I could!"
By the time Dara graduated high school, she entered college with only three general studies courses left to take. This led her to graduate college a year early, making her a firm believer in dual enrollment courses.
Mrs. Katherine Bowe
Instructor of Mathematics – Concord University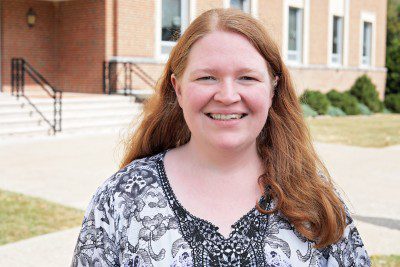 Mrs. Katherine Bowe is an Instructor in Mathematics at Concord University; she started teaching here in 2014, and became a full-time faculty member in 2018. She is currently doing research and development on Open Educational Resources to help ensure all of her students have free and permanent access to educational resources. She is also interested in online learning design to help facilitate learning in an online environment.
Mrs. Bowe regularly teaches the Quantitative Reasoning, College Algebra, and Elementary Statistics dual credit courses. When asked about her advice to high school students seeking out Dual Enrollment, Mrs. Bowe said
"I always recommend high school students remember to check their Concord email address. This is generally the only way I have to communicate with students, so it's important to check it and not rely on their email connected with their high school."
Communication is key for success in early enrollment courses!