President Kendra S. Boggess, Ph.D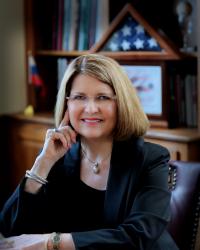 Dr. Boggess was appointed Concord University's 12th President by the Board of Governors on April 22, 2014 after serving as the Interim President for just over one year. Dr. Boggess brings nearly three decades of serving Concord in academics and administration to the presidency. Throughout her career, she has served on numerous national, state, institutional and divisional committees and has been recognized for her leadership. In her current role, she was elected president of the Council of WV University and College Presidents, president of the West Virginia Association of Regional and College Presidents (WVARCU), president of the Mountain East Conference Presidents' Council and has been active on many statewide educational boards and committees. She is also an active and respected member of the local business and civic community.
During her years as president, Dr. Boggess has worked to transform the university to better anticipate the needs of the region and state while also anticipating the currents of student interest in the volatile higher education marketplace. Her thorough knowledge of higher education as an industry, and of higher education specifically in West Virginia, has enabled her to support changes to Concord's program development and enrollment growth. Concord's newly approved nursing program is the best example, but there are many others–including the addition of Esports, multimedia production, multi-track health science, substance use studies, the MBA, the MAT, and Graphic Design, just to name a few, with more to come. Her basic business savvy, something she brings to the table in abundance, has allowed accelerated change at Concord and her financial leadership has served the institution well.
Joining Concord's faculty in 1984, Dr. Boggess' academic experience consisted of teaching various undergraduate business courses in Concord's Division of Business, primarily in business communications, software applications and human resource management. Her prior administrative experience resulted from service as the Division's chairperson from 1996 – 2009, and from more than 25 years' work in the private sector. She gained additional administrative experience when elected Concord's faculty president in both 2008 and 2009. Dr. Boggess served as an associate dean at Concord from 2009 – 2011. She was appointed the University's interim vice president and academic dean in August 2011.
Dr. Boggess holds a Ph.D. in Career and Technical Education with a cognate in Business Management from Virginia Tech University. Her dissertation topic was "Ethical Issues in Business Communication: A Comparative Study of the Perceptions of Japanese and US Students. Her research interests are in culture's impact upon business ethics and strategies of effective business communication. While at VT, she served as a Graduate Research Assistant with responsibilities for the collaborative writing of V-TECs catalogs and curriculum guides. She has served as a reviewer for the Career & Technical Research Association journal for several years. Dr. Boggess earned a Master's of Science degree in Vocational Technical Education from Virginia Tech (VT), and a B.S. degree in Business Education from the University of Florida in Gainesville. In addition, she also has an Associate of Arts degree from St. Petersburg Junior College in Florida.
Dr. Boggess is active in the local business community and is a Charter Member of the Board of Directors of the Charles Mathena III Foundation serving the Chuck Mathena III Performing Arts Center in Mercer County, WV.
She makes her home in Princeton, WV. Together with her late husband, Ted, she has 3 amazing sons and wonderful daughters-in-law, and 6 of the best grandchildren one could imagine.