CONCORD UNIVERSITY AWARDS ACADEMIC ACHIEVEMENT AT 62ND ANNUAL HONORS BANQUET
CONTACT:  Lindsey Byars
Concord University                                                                                                                           FOR IMMEDIATE RELEASE
Office of Advancement                                                                                                                                       April 27, 2023
PO Box 1000, Athens, WV 24712
(304) 384-6312
www.concord.edu
After 4 p.m.
lbyars@concord.edu
Cell: 304-887-6312
(leave message)
CONCORD UNIVERSITY AWARDS ACADEMIC ACHIEVEMENT AT 62ND ANNUAL HONORS BANQUET

ATHENS, W.Va. – Concord University's 62nd Annual Honors Banquet was held the evening of Friday, April 21 in the ballroom of the Jean and Jerry L. Beasley Student Center. Cardinal Key and Blue Key Honor Societies hosted the event, which is sponsored by the University to honor students who have demonstrated academic excellence.
In addition to awards presented by departments and disciplines, honor societies recognized their graduating seniors at the banquet. Students graduating with university honors were also acknowledged.
The late Professor Emerita Mary Edna Beckett and President Emeritus Joseph Marsh, Jr. organized the first Honors Banquet in 1961, cosponsored since its inception by Cardinal Key and Blue Key Honor societies. The tradition continues as a way to celebrate the outstanding academic achievements of Concord University students.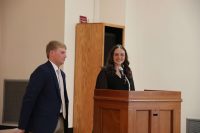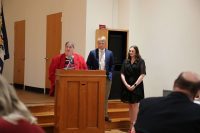 Colin Wiley, President of Blue Key, and Erica Merrill, President of Cardinal Key, called those gathered to order. Merrill also gave the invocation. Dr. Lisa Darlington, Faculty Advisor for Cardinal Key, welcomed students and guests.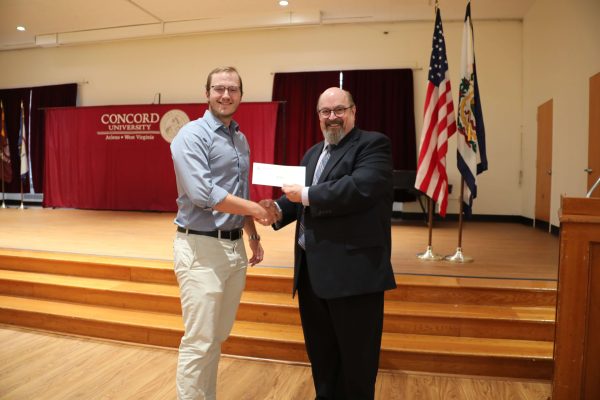 Dr. Edward Huffstetler, Provost and Vice President for Academic Affairs, recognized graduates with university honors, as well as the recipient of the Lucy Sneed DeNuzzo Award for Academic Excellence, Joseph D. Barton.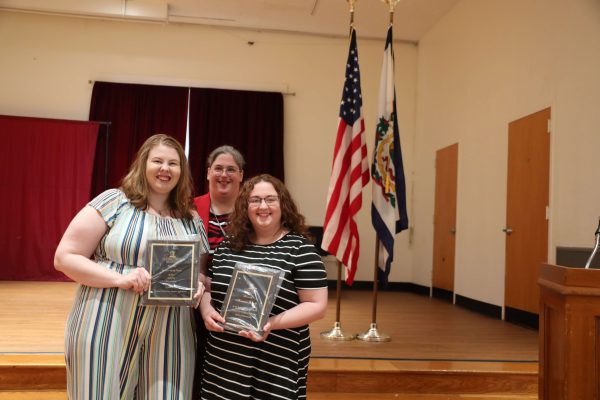 Valedictorians for both the fall of 2022 and spring of 2023 were recognized: Madison Darby Taylor and Shannon Jarrell.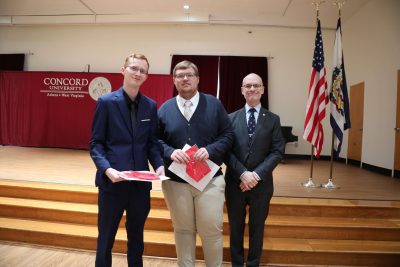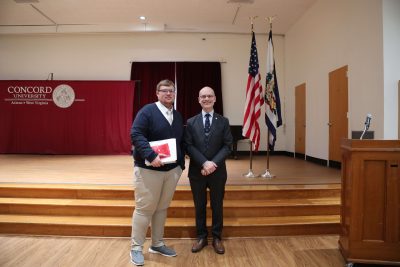 Nathan McClellan Lockhart and Paul Ethan Morris were recognized as graduates of Phi Alpha Theta by Dr. Thomas McKenna, professor of History and Philosophy. Dr. McKenna also presented Morris with the Outstanding History Student award.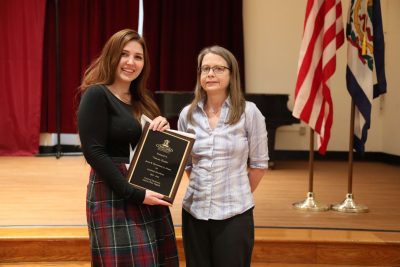 Victoria Sowder was the recipient of the James B. Shrewsbury Jr. Award for Academic Excellence, presented by Dr. Michelle Gompf, chair of the Department of Humanities. Emily Graham was presented the David S. Roth Memorial Outstanding English Major Award.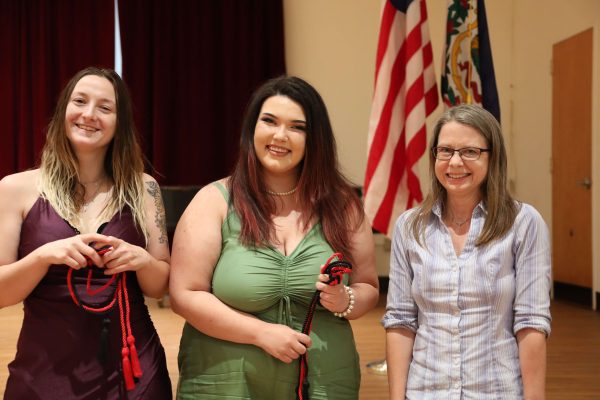 Farrah Compton and Emily Bailey were recognized as graduates of Sigma Tau Delta.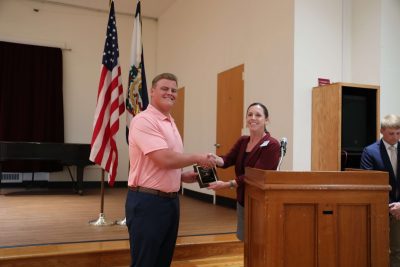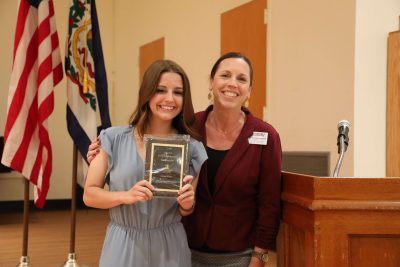 Davis Roberson, an elementary education major, and Lauren Vaught, a secondary education major, received awards for Outstanding Teacher Education Majors from Dr. Andrea Campbell, chair of the Education Department and director of Teacher Education.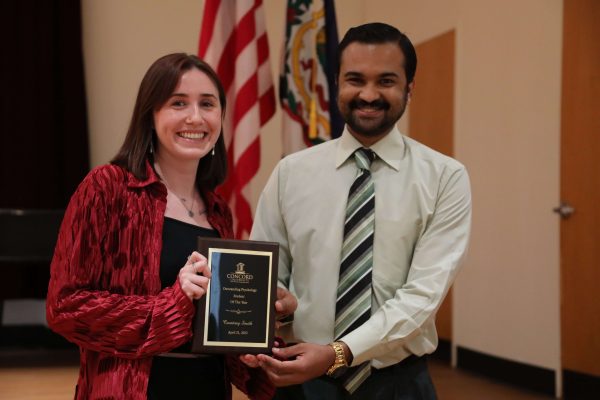 Courtney Smith received the Outstanding Psychology Student of the Year award, presented by Dr. Manjunath Burdekar, assistant professor of Psychology.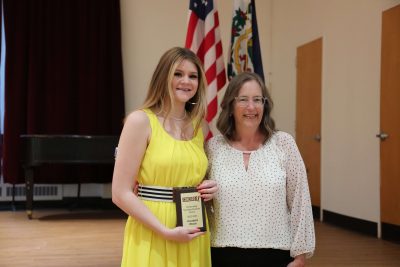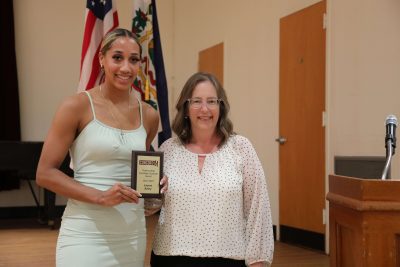 Annabelle Woods and Lauryn Avery were presented with the Outstanding Sociology Graduate of the Year, presented by Dr. Tracy Luff, professor of Sociology and Director of the Honors Program.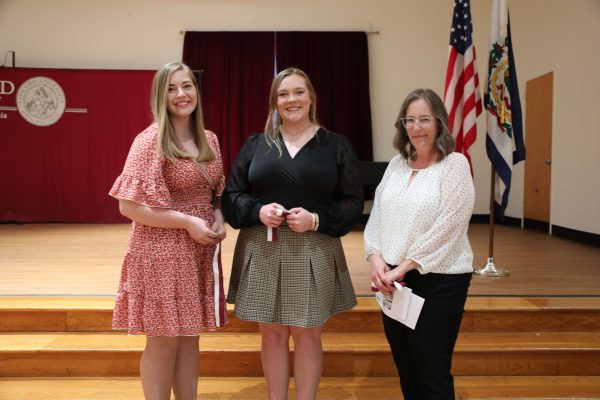 Dr. Luff also recognized two students graduating from the Concord University Honors Program: Stella Dunn and Alexandria Mizia.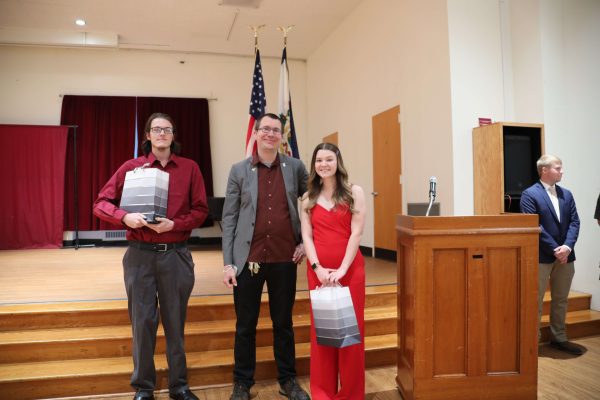 Outstanding Computing Major was presented to Kevin Sawyer and Hannah Lawson by Mr. Lonnie Bowe, assistant professor of Computer Science.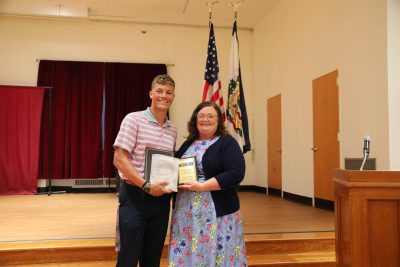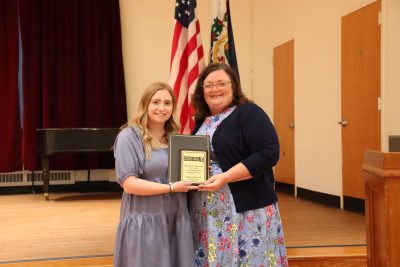 Business Student of the Year was presented to Alexander Watty by Dr. Susan Williams, director of the Beckley Campus and professor of Marketing. Dr. Williams also presented Bethany Breedan with the Shott Entrepreneurial Student of the Year award.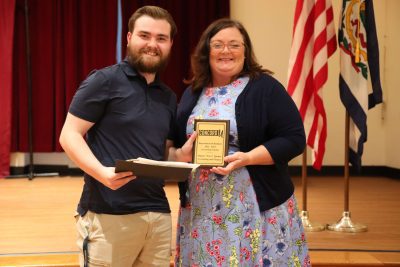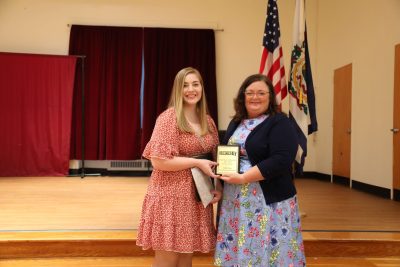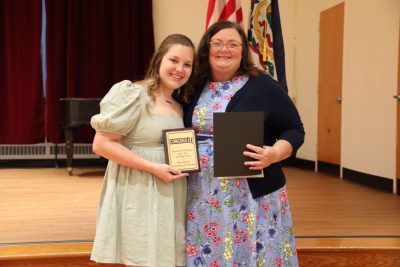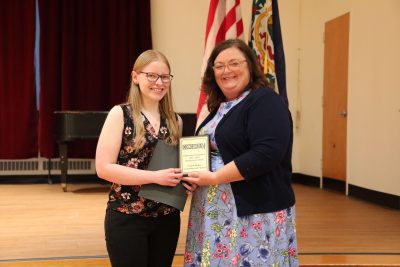 Business Scholars awards were presented by area of Emphasis: Trey Spence, Accounting; Stella Dunn, Finance; Ella Goodwin, Marketing; and Caitlyn Butler, Management.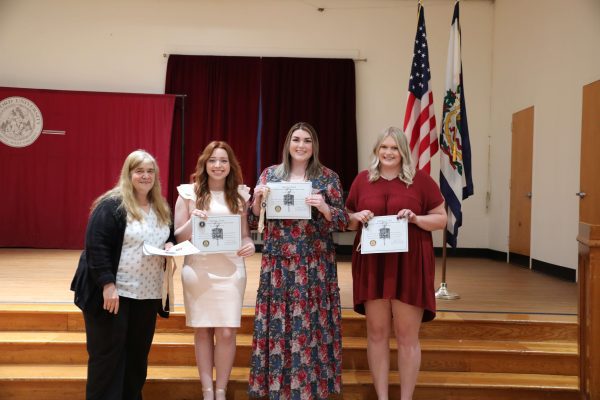 Graduates of Sigma Zeta were recognized by Dr. Darla Wise, professor of Biology—from left, Riley Costello, Kennedy Pugh, and Natalie James.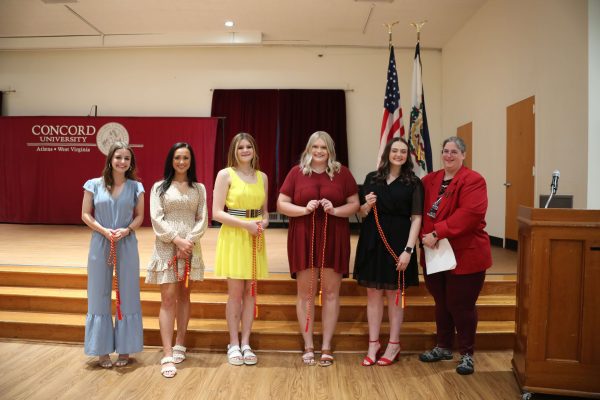 Graduates of Cardinal Key recognized are Lauren Vaught, Kaleigh Baisden, Annabelle Woods, Natalie James, and Erica Merrill.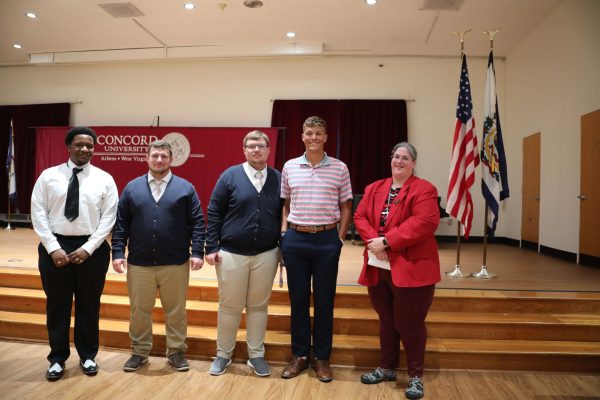 Graduates of Blue Key recognized are Marcus Breckenridge, Carl McAllister, Paul Morris, and Alexander Watty.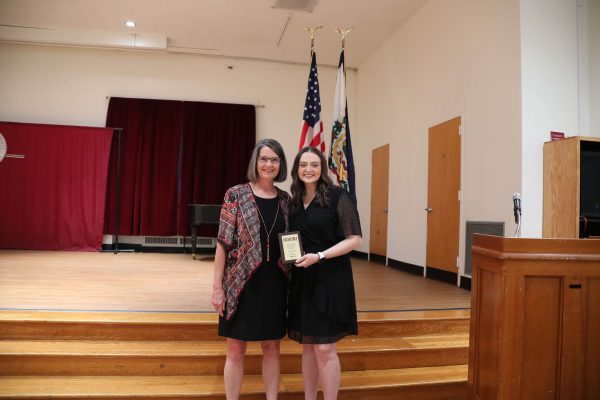 Erica Merrell was recognized as the Outstanding Social Work graduate, presented by Dr. Sarah Whittaker, Distinguished Professor of Social Work.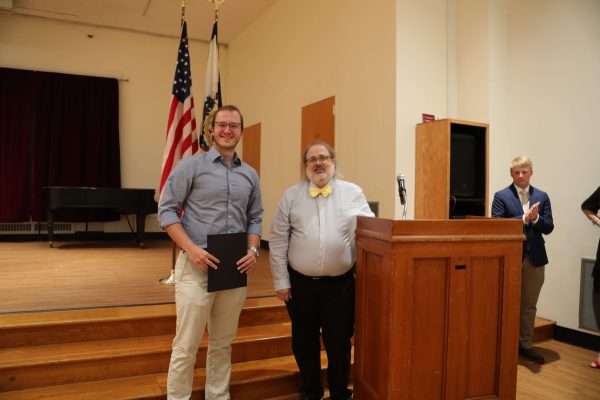 The A.H. Montgomery Chemistry Award was presented to Joseph Barton by Dr. Darrell Crick, professor of Chemistry.
-CU-  
Persons with disabilities should contact Nancy Ellison, 1-304-384-6086 or 1-800-344-6679 extension 6086
if special assistance is required for access to an event scheduled by the University on campus.