CONCORD UNIVERSITY PRESIDENT INDUCTED INTO SHARP SHOOTERS CLASS OF 2023
CONTACT:  Lindsey Byars
Concord University
Office of Advancement
PO Box 1000, Athens, WV 24712
(304) 384-6312
lbyars@concord.edu

For Immediate Release
June 8, 2023
CONCORD UNIVERSITY PRESIDENT INDUCTED INTO SHARP SHOOTERS CLASS OF 2023 
ATHENS, W.Va. – Concord University President Kendra Boggess has been inducted into West Virginia Executive magazine's Sharp Shooters Class of 2023. Dr. Boggess was recognized, along with the other members of this year's class, at a reception at the WV Cultural Center and State Museum in Charleston on May 30.
"I thank West Virginia Executive Magazine for this recognition. Being among this distinguished group of leaders who represent and serve the state of West Virginia is truly humbling," said Dr. Boggess.
This award is presented to West Virginians 44 years of age or older who have been in their West Virginia-based position for at least five years and have a record of active participation in community service and philanthropic efforts.
"Concord University's history of 150 years in service to the state has made this role even more of a privilege that has provided opportunities to build on Concord's early foundation, put into place by many loyal people committed to the education of West Virginia's young people," said Dr. Boggess.
President Boggess is Concord University's 12th president. She was appointed by the Board of Governors on April 22, 2014 after serving as the Interim President for just over one year. She brings nearly three decades of serving Concord in academics and administration to the presidency. Throughout her career, she has served on numerous national, state, institutional and divisional committees.
West Virginia Executive magazine has been recognizing professionals who drive the state's success with its Young Guns honor program since 1999. After many requests to publishers at Executive Ink, LLC, the first class of Sharp Shooters was recognized in 2016.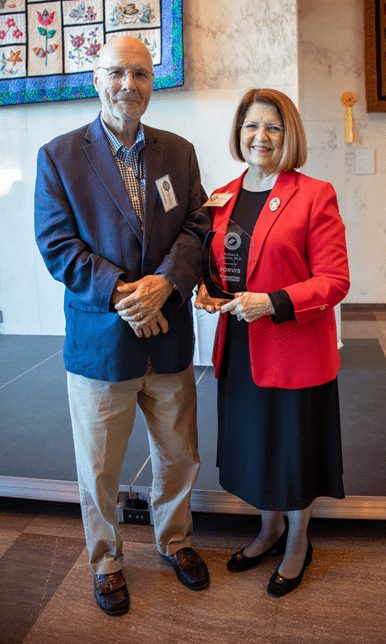 David Barnette, Chairman of Concord University's Board of Governors, with President Boggess
-CU-  
Persons with disabilities should contact Nancy Ellison, 1-304-384-6086 or 1-800-344-6679 extension 6086if special assistance is required for access to an event scheduled by the University on campus.