Programs of Art
The programs of study offered in Art are based on the conviction that the artist is of essential value to his or her time and culture. Opportunities are provided to help the individual develop talents in an orderly and logical manner. Programs of study offered in Art are for students seeking careers as teachers, as advertising/graphic design professionals, as studio artists, and for those planning to attend graduate schools.
Advertising/Graphic Design
The Concord University Advertising/Graphic Design program focuses on preparing students for careers in the fields of web design, publishing, graphic art, illustration, package design, advertising design, printing technology, 35mm and digital photography, and creative/art direction for advertising. The Advertising/Graphic Design program is closely aligned with the Studio Art Program and is designed to fulfill the Mission and Goals of Concord University. Students develop creative and artistic skills while learning the latest in computer graphics and digital technology.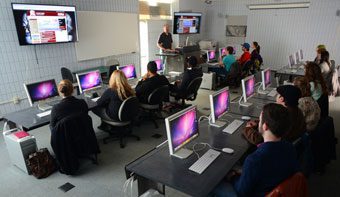 The program provides students with excellent facilities, advanced technology and is designed to develop graphic designers and advertising professionals with the ability to understand and appreciate the creative process. The program has an updated computer lab as well as faculty who are knowledgeable in both the fine arts and computer graphics. The program also prepares students to face the demanding world of advertising or the option to enter a graduate program. Graduates are equipped with the ability to analyze moral and ethical issues in both advertising and during the course of their lives.

The Advertising/Graphic Design Program offers students a unique opportunity to work with faculty that bring into the classroom years of professional advertising experience. Thanks to the faculty interactions with national, and international clients, students are frequently challenged by class projects that involve advertising design at a professional level. Classes have been carefully designed to involve the local community as part of our students' education. Student instruction is delivered via lecture and special instructional field trips to commercial printers and businesses to facilitate their understanding of complex technical subjects. By visiting different local businesses of the printing and publishing industry, students are exposed to design projects that are in the production process. This approach of taking the classroom out into the actual advertising market places program graduates in an advantageous position when the time comes to enter the work force or graduate school.
Studio Art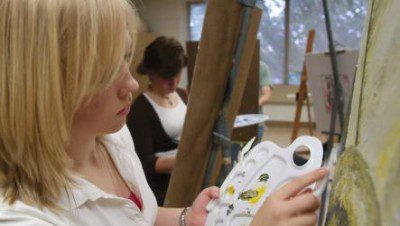 The Studio Art program is designed to prepare students for careers as artists in the fields of ceramics, illustration, photography, painting, printmaking and sculpture, as well as ensuring students meet entry requirements for graduate schools, in these areas of concentration. The Studio Art program provides students the instruction, facilities, equipment, and opportunities necessary to develop their skills, abilities, and historical perspectives in their chosen area of artistic specialization.