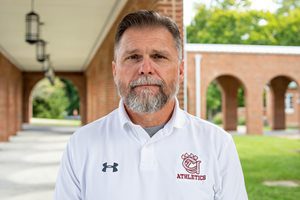 Garrett, Kevin
Title: Athletic Director, Head Baseball Coach
Department: Athletics, President's Cabinet
Phone: 304-384-5340
Room: Carter Center 301K
Box: D-77
"*" indicates required fields
Biography
Kevin Garrett begins his 14th year as Concord's Director of Athletics in 2022-23.
Under Garrett's guidance, the athletic department has seen unprecedented success academically and athletically in addition to an increase in fundraising opportunities for CU.
One of the biggest successes for Garrett was the upgrade and improvement of Callaghan Stadium with new turf being replaced during the summer of 2021. In the same summer, the floors of both gymnasiums in the Carter Center were also redone. And for the first time, the Concord baseball and softball teams got to play on turf fields, Anderson Field and the CU Softball Field, respectively.
Some other renovations done under Garrett's watch are improvements to the Carter Center and Athletics Hall of Fame.
In Garrett's time as Director of Athletics, Concord has won 17 conference championships, 22 conference Player of the year awards and 16 conference Coach of the Year honors.
The Mountain Lions have appeared in NCAA tournament competition 24 times, including Concord's first NCAA National Champion, Shawnee Carnett in the 800 meter run in 2011. Under Garrett, Concord has produced 30 NCAA All-Americans, nine NCAA Regional Players of the Year, 106 NCAA All-Region players and 206 first team all-conference players, including 28 first team all-conference players in 2014-15 which were the most for Concord since Garrett assumed the role of director of athletics prior to the 2009-10 school year
In just the last three years, four programs–men's cross country, men's golf, softball and women's soccer–have competed at the NCAA Regional or National Championship level. Since the start of the 2018-19 school year, 69 student-athletes have earned All-MEC First Team. Three different coaches have picked up MEC Coach of the Year. Women's basketball coach Kenny Osborne winning Atlantic Regional Coach of the Year in 2019 while women's soccer head coach Luke Duffy was the Atlantic Regional Coach of the Year in 2021 were among the coaches at CU to earn regional awards.
Prior to being named Director of Athletics, Garrett guided the Mountain Lion baseball team to four WVIAC Southern Division titles, the 2001 WVIAC championship – Concord's first in 40 years – and three NCAA Tournament appearances. His 519 career victories are the most in program history. Garrett resumed coaching the Concord baseball program in June 2015.
Five of Garrett's players went on to sign professional contracts. Garrett won the WVIAC Coach of the Year award three times — 2001, 2003 and 2008. His 2008 team finished 35-15 and set a then single-season victory record. His final team, in 2011, posted a record of 29-9, setting a single-season winning percentage record of .763.
In his coaching career, Garrett had 10 All-Americans, 18 all-region athletes and 28 all-conference players. Eight players garnered either conference player of the year or pitcher of the year honors over Garrett's 22 seasons in the dugout.
Among the many academic improvements that have gone on under Garrett's watch include the implementation of the department's study hall and Graduation Retention Improvement Program (GRIP). The study table program has also been a success. Garrett also initiated the Athletic Director's Honor Roll, which recognizes Mountain Lion student-athletes that have a 3.25 or higher GPA. In the classroom, Concord put 120 student-athletes on the All-MEC Academic Team or the the MEC's Commissioner's Honor Roll during the 2019-20 school year. And 127 student-athletes made Concord's Dean List in 2018-19.
"We ask that our student-athletes represent Concord University with passion, dignity and diligence athletically and academically. Concord's athletic tradition is strong, and the future looks even brighter," Garrett said.
Under Garrett's leadership, the department has started fund-raising initiatives that feature annual events including the Elimination Dinner and Golf Outing, both held in the fall, which Garret helped create and organizes. "Our coaches, trainers and administrative staff are extremely committed to providing our student-athletes with the resources, guidance and support that will help them have a successful college experience," Garrett said.
In the fall of 2021, the annual golf outing saw a record number, 24 teams participate in the fundraiser during homecoming weekend.
Not only has Garrett boosted the department's funds, but under Garrett's watchful eye the school has seen significant improvement in its athletic facilities. Along with the upgrades to the Callaghan Stadium, the Carter Center gymnasium floor and Anderson Field and the CU Softball Field, the school's weight room has seen major upgrades, and Garrett also helped establish an on-campus health clinic for student-athletes.
In addition to watching over CU athletics, Garrett also served on the NCAA men's golf Regional Advisory Committee (RAC) and the NCAA baseball RAC. He was also the first chairman of the Mountain East Conference Athletic Directors Committee.
A native of Pineville, W. Va., Garrett graduated from Bluefield State University with a degree in education in 1989. He also received his master's from Concord in health promotion.
As a baseball player, Garrett set BSU career and single-season records leader in stolen bases. He was later voted into Bluefield State's Baseball Hall of Fame. After college, Garrett was employed by the Raleigh County school system as a physical education teacher and football and baseball coach.
Garrett and his wife, Robin, have adult two kids, Bo and Taylor, and three grandchildren, Jaxon, Connor and Harper.
Education
M.A.H.P., Concord University (2013)
B.S., Bluefield State College