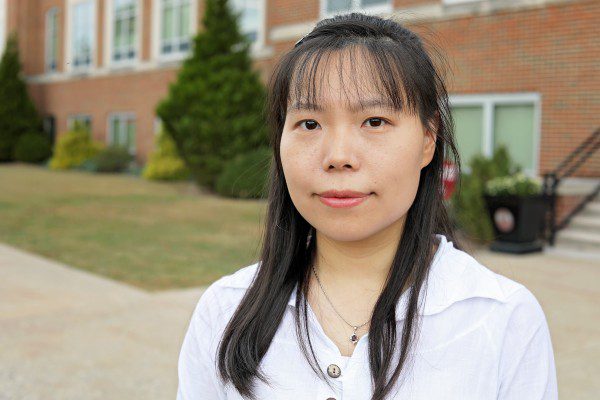 Yin, Hong
Title: Associate Professor of Chemistry
College: College of Science, Mathematics, and Health
Department: Department of Physical and Environmental Sciences
Phone: 304-384-5315
Discipline: Chemistry
Room: Science 401B
Box: F-18
"*" indicates required fields
Biography
Hong Yin is an Associate Professor of Chemistry at the Department of Physical and Environmental Sciences. She joined Concord University after she completed her doctoral studies at West Virginia University and earned her Ph.D. in Chemistry in 2014. She also serves as the Chemical Hygiene Officer at Concord. With a great passion for chemistry education, she is interested in employing integrated learning activities, technology, and assessment methods to accommodate different students' learning styles to promote educational achievement for all students.
Education
Ph.D. in Chemistry, West Virginia University (2014)
M.S. in Physical Chemistry, Shanghai Normal University (2008)
B.S. in Applied Chemistry, Shanghai Normal University (2005)
Research
Dr. Yin's primary research interests are in the field of methodology development and total synthesis of naturally occurring compounds. Specifically, she focuses on preparing highly effective organometallic mesoporous catalysts and utilizing them in diverse olefin oxidations to develop more environmentally friendly chemical reactions. Her research is cross-disciplinary incorporating material that students will learn in Green Chemistry, Environmental Science, Nano-Materials Science, Physical Chemistry, and Organic Chemistry. Her research work can easily be divided among several students so that each student can make a unique contribution to the project.
Selected Publications
H. Yin, S.W. Dantale, N.G. Akhmedov, B.C.G. Söderberg, Formation of 2-halomethylene-4-cyclopentene-1,3-diones and/or 2-halo-1,4-benzoquinones via ring-expansion of 4-ethynyl-4-hydroxy-2,3-substituted-2-cyclobuten-1-ones. Total synthesis of methyl linderone, Tetrahedron. 69 (2013) 9284–9293.
H. Li, F. Zhang, H. Yin, Y. Wan, Y. Lu, Water-medium isomerization of homoallylic alcohol over a Ru(II) organometallic complex immobilized on FDU-12 support, Green Chem. 9 (2007) 500–505.
F. Zhang, G. Liu, W. He, H. Yin, X. Yang, H. Li, J. Zhu, H. Li, Y. Lu, Mesoporous Silica with Multiple Catalytic Functionalities, Adv. Funct. Mater. 18 (2008) 3590–3597.
H. Li, H. Yin, F. Zhang, H. Li, Y. Huo, Y. Lu, Water-Medium Clean Organic Reactions over an Active Mesoporous Ru(II) Organometallic Catalyst, Environ. Sci. Technol. 43 (2009) 188–194.