Concord University is excited to announce their third honor band will be held on January 27 & 28, 2023, in the Ballroom on the third floor of the Jean & Jerry Beasley Student Center. Our honor band is open for students in grades 6-12. This year's guest conductors are Ms. Meleah Fisher, Mr. William Robert ("Bobby") Jenks, and Dr. David Ball.
Ms. Meleah Fisher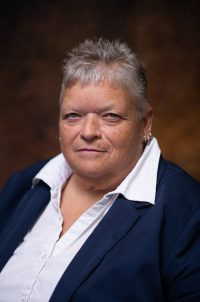 Meleah Fisher is a career educator who graduated from Concord University (College) in 1994 with a Bachelor of Science in Music Education (K-12). While at Concord, Meleah was a member of the Marching and Concert Band, Brass Ensemble, the Commanders Jazz and Dance Band, and was the Sound Lady for the ConChords Vocal Jazz Ensemble.

Meleah has taught in Kanawha County, West Virginia since fall of 1994. She has lead the bands of Dupont High School (1996-1999) and DuPont Middle School (1999-2000) before taking the position at Herbert Hoover High School, where she still teaches, in the fall of 2000. Over the course of her teaching career, she has maintained membership and leadership positions in professional organizations: WVSSAC Region 4 Adjudications Festival Director (2015-Present), and Executive officer for the WV Band Masters Association (2015- Present). She is also involved in several other professional organizations: the National Association for Music Education (MENC), She has also received accolades for her excellence in teaching music: in 2017 she was honored as the Phi Beta Mu National Band Masters Fraternity Tau Chapter (WV) Band Director of the Year. In that same year Meleah was featured in School Band Orchestra Magazine's fall issue "50 Directors that Make a Difference" for West Virginia

Meleah Fisher currently is the band director of the award-winning Marching Huskies from Herbert Hoover High School in Elkview, West Virginia. Her band has earned Superior Ratings and numerous awards from marching band festivals throughout West Virginia. After overcoming a devastating flood that set back the entire school community in 2016, Meleah and the Marching Huskies, took the trip of a lifetime and represented the Elk River community and the state of WV by being selected to march at Walt Disney World's Magic Kingdom Performing Arts Parade on April 3, 2018.

Meleah resides in Saint Albans, WV with her two West Virginia Brown Dogs (Sable and Bubba) and two Cats (Autumn and Onyx), and faithfully attends the Davis Creek Church of the Nazarene.
Mr. William Robert ("Bobby") Jenks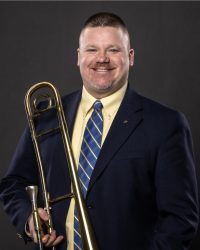 Mr. William Robert ("Bobby") Jenks is a native of McDowell County, West Virginia where he graduated from Iaeger High School. He is a graduate of Concord College (now University) with a Bachelor of Science in Music Education for grades K-12. While at Concord, Mr. Jenks studied trombone and jazz from Mr. Randy Budd. He received his Master of Arts in Music (trombone performance), from Marshall University, and studied with Dr. Michael Stroeher. He has taught in North Carolina, Virginia, and has spent most of his teaching career in West Virginia. He has been a guest conductor and clinician for All-County band(s), Jazz ensemble(s), Honor Band(s) as well as Handbell Festival(s). He has also judged several marching festivals, Solo and Ensemble Festivals, as well as Regional Band Adjudication Festivals around our state. He was selected as NFHS Music Educator of the Year (WV), NFHS Music Educator of the Year (Section II), and was a Quarterfinalist for 2022 and 2023 Grammy Music Educator of the Year.

His Concert Bands and Jazz Ensembles have received Superior both regionally and nationally. His marching bands, including The Pride of Capital High, won several Grand Championships. Mr. Jenks' students have been members of the West Virginia All-State Band, as well as All-County, performed for Solo and Ensemble (WVMEA Solo and Ensemble), WV Youth Symphony, National Youth Symphony Orchestra, and many other additional activities.

He is a member of the National Association for Music Education and the International Trombone Association. Mr. Jenks is an active member of the Phi Beta Mu Bandmasters Fraternity (current President of the Tau Chapter) and coordinates the band director clinic for WV band directors sponsored by (WV Bandmasters Association and Phi Beta Mu). He has been very active with the West Virginia Bandmasters Association, having served as the Secretary/Treasurer, as well as the Region 4 Band Festival Chair and is currently serving as the graded music list chair. Mr. Jenks currently serves as President for the West Virginia Music Educators Association.

Mr. Jenks is the Conductor of the Youth Winds for the West Virginia Youth Symphony. Bobby plays trombone in The Brass 5, Lead Trombone (and personnel director) for The Jewel City Jazz Orchestra, and is a substitute trombonist for the River Cities Orchestra, Huntington Symphony Orchestra, as well as a substitute for the Laundau Murphy, Jr. Band. He has performed with multi–Grammy Award winner – Gregory Porter. He leads the Christ Church Brass and is a member of the Chancel Choir and Chancel Ringers at Christ Church United Methodist. He sings Baritone with the West Virginia "Opus Chorale". Mr. Jenks is a wrestling official through the West Virginia Secondary Schools Activities Commission in the Kanawha Southern Board, and previously coached wrestling for several years. He and his wife Emily, along with their twins, reside in Hurricane. Mr. Jenks is in his 24th year as a music educator. He currently band director at South Charleston Middle School in Kanawha County WV.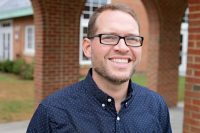 Dr. David Ball is an Associate Professor of Music at Concord University in Athens, West Virginia where he has served as the Director of Bands for the last decade. In this role he has conducted numerous ensembles at the university and taught more than 25 different courses in music. As a multi-instrumentalist he can be heard on the Albany, Chandos, and Polyphonic record labels in performances with the Royal Northern College of Music Wind Ensemble and the Ohio Light Opera. David holds degrees in trombone and euphonium performance from the University of Minnesota, the Royal Northern College of Music in Manchester, England, and Virginia Tech. Dr. Ball is a founding member and Trombonist of the Spark Brass Quintet and the Bassist of P-Flunk. He enjoys racquet sports, reading, movies, and chamber music, as well as rooting for the Minnesota Twins and Virginia Tech Hokies. He lives in Athens with his dogs Ollie and Ray-Ray, and is "attempting" to run a half-marathon in every state.