CONCORD CHARLIE PREDICTS EARLY SPRING – RUSTY SARVER HONORED
CONTACT:  Lindsey Byars
Concord University                                                                                                                           FOR IMMEDIATE RELEASE
Office of Advancement                                                                                                                                 February 2, 2023
PO Box 1000, Athens, WV 24712
(304) 384-6312
www.concord.edu
After 4 p.m.
lbyars@concord.edu
Cell: 304-887-6312
(leave message)
CONCORD CHARLIE PREDICTS EARLY SPRING – RUSTY SARVER HONORED
ATHENS, W.Va. – Concord Charlie sent President Kendra Boggess a text on this snowy Groundhog Day morning to tell her he did not see his shadow—we can expect to see spring right around the corner!
Nearly 80 guests gathered in University Point's Pais Fellowship Hall this morning to enjoy Concord University's annual breakfast buffet, to hear Charlie's prediction, and to honor Rusty Sarver '94, this year's Grand Groundhog Watcher.
Sarver is co-owner of Main Street Builders, Eastern Door and Glass, Cloverleaf Properties, Eastern Aluminum Fabrication, Longview Properties, and Melrose Enterprises. He has served as a board member at Princeton Community Hospital since 2011, serving as Board Chair since 2017.
The Concord Charlie tradition was originated in 1978 by the late Professor R.T. "Tom" Hill. As chairman of both the geography department and the Appalachian Studies program at Concord, Hill started the Groundhog Day Breakfast as a means to celebrate a bit of Appalachian heritage and highlight the program.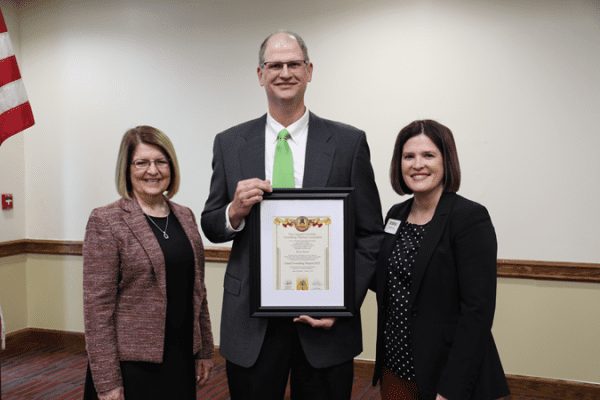 L-R: President Kendra Boggess, Rusty Sarver, and VP of Advancement Sarah Turner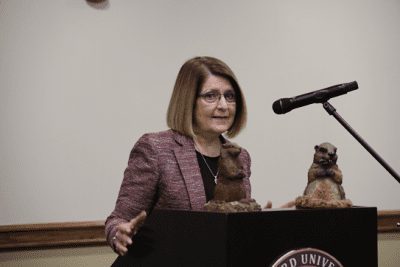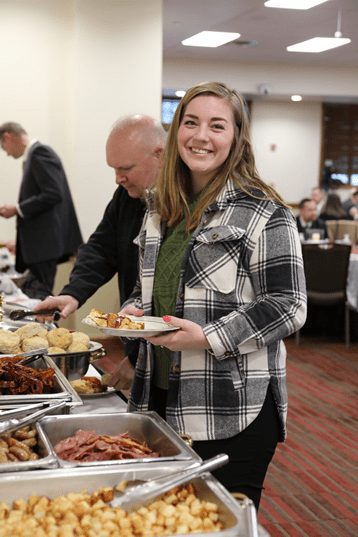 -CU-  
Persons with disabilities should contact Nancy Ellison, 1-304-384-6086 or 1-800-344-6679 extension 6086
if special assistance is required for access to an event scheduled by the University on campus.