CONCORD UNIVERSITY'S THEATRE DEPARTMENT PRESENTS PUFFS, A HARRY POTTER PARODY
CONTACT:  Lindsey Byars
Concord University                                                                                                                           FOR IMMEDIATE RELEASE
Office of Advancement                                                                                                                                       March 22, 2023
PO Box 1000, Athens, WV 24712
(304) 384-6312
www.concord.edu
After 4 p.m.
lbyars@concord.edu
Cell: 304-887-6312
(leave message)
CONCORD UNIVERSITY'S THEATRE DEPARTMENT PRESENTS PUFFS, A HARRY POTTER PARODY
ATHENS, W.Va. – Harry Potter fans, people who enjoy a good laugh, or anybody who can relate to going to school, trying to make friends, and not being very popular, you won't want to miss Concord University's spring show!
Puffs, or Seven Increasingly Eventful Years at a Certain School of Magic and Magic, an award-winning Off-Broadway show written by Matt Cox, follows the less popular students of the "Puff" house, the students who sat beside the ones determined to change the world. While Harry Potter was battling evil, other witches and wizards were just trying to find their place. This is their story.
"This production shows Concord Theatre's continued dedication to growing community involvement," said Logan Reagan, assistant professor of theater. "In addition to the more than 20 students involved, we also have two Concord staff members and three community members participating."
Puffs will run April 20-22 beginning at 7 p.m. and on April 23 at 2 p.m. in the H.C. Paul Theatre of the Alexander Fine Arts Center. The cost to attend is $5 for the community; faculty, staff, and students will not be charged admission. This show is recommended for audiences age 12 and up. Reservations are strongly encouraged. Contact Logan Reagan at 304-384-5259 or through email at lreagan@concord.edu.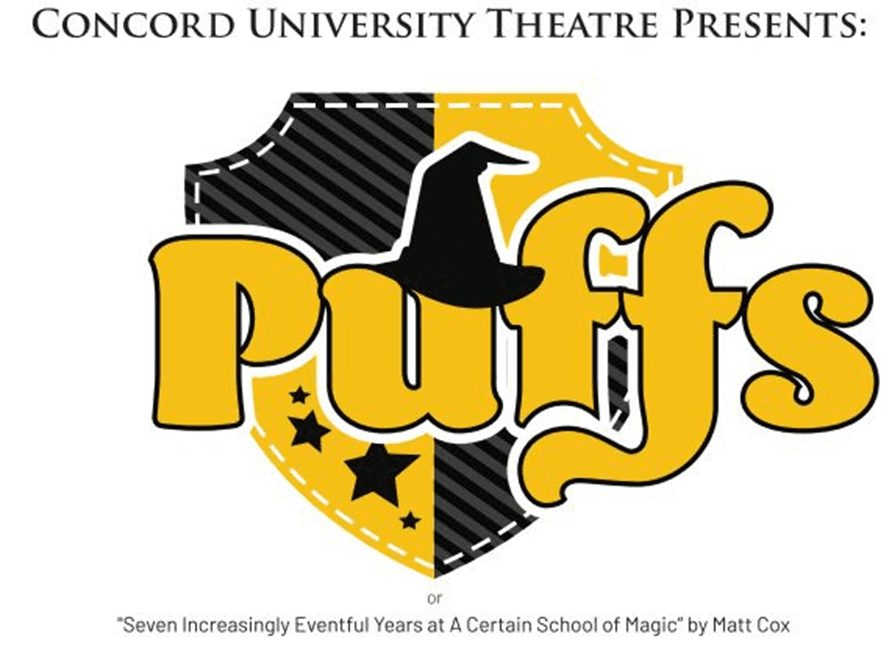 -CU-  
Persons with disabilities should contact Nancy Ellison, 1-304-384-6086 or 1-800-344-6679 extension 6086
if special assistance is required for access to an event scheduled by the University on campus.