CONCORD'S 'RUN FOR HEROES 5K RACE' TO HONOR STUDENT VETERANS IS BACK
CONTACT:  Nicole Smith, PR Manager
Concord University Office of Advancement
PO Box 1000, Athens, WV 24712
(304) 384-6312
nlsmith@concord.edu
www.concord.edu
FOR IMMEDIATE RELEASE: September 18, 2023
CONCORD'S 'RUN FOR HEROES 5K RACE' TO HONOR STUDENT VETERANS IS BACK
ATHENS, W.Va. – The Run for Heroes 5K race is back after a 9-year hiatus, with an additional twist. The walk/run will now incorporate the fun of finishing to red and blue color clouds. The race will continue to combine the challenges of a 5K race with the opportunity to help student veterans at Concord University.
The event will take place on Saturday, October 7 at Callaghan Stadium on the Athens campus. Registration begins at 8 AM and the race begins at 9 AM. A moment of silence will be held just before the start of the race in honor of our fallen soldiers and injured veterans. Participants who pre-register by September 23rd receive a discounted rate and are guaranteed a T-shirt.
Pre-register here: https://www.webscorer.com/register?raceid=326727
The event will benefit Veterans attending Concord University through the Concord Office of Veterans Services. Dr. George Williams, CU Veterans Advocate says, "Student veterans are often non-traditional, juggling a family, work, and school. The OVS assists veterans and their dependents in all facets of higher education, from application and academics to financial and social support."
Organizers will use the original course created nine years ago. It's meant to be a challenging, yet fun, atmosphere. The challenges of the course honor the hard work and sacrifices endured by United States military personnel. Winners will be awarded medals and prizes.
For more information about The Run for Heroes 5K race, contact Andrew Barbera, Director of Intramural Sports at 304-384-6347 or wbarbera@concord.edu.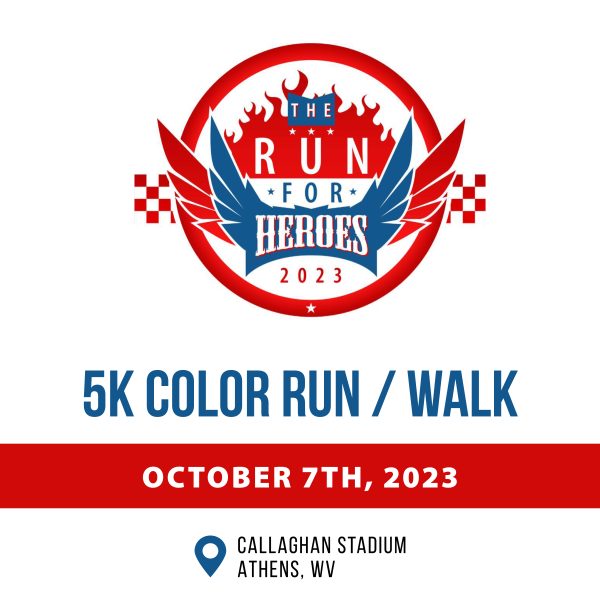 -CU- 
Persons with disabilities should contact Nancy Ellison, 1-304-384-6086 or 1-800-344-6679 extension 6086, if special assistance is required for access to an event scheduled by the University on campus. Concord University may take pictures at these events for publicity purposes.