Music courses, ensembles, and private lessons at Concord are open to all Concord students, regardless of major, and are taught by Concord's experienced faculty members, each of whom holds a doctorate in his/her field of expertise. Performances take place in our soon-to-be-renovated Auditorium in the Alexander Fine Arts Building, as well as the beautiful Wilkes Chapel at University Point.
The Music Program is committed to excellence in education and performance. Alumni of the Concord Music program can be found teaching and performing throughout West Virginia and the surrounding areas.  We have an excellent teacher placement rate, and Concord Music alumni have gone on to earn graduate degrees in areas such as performance, education, musicology, and conducting.
Come be a part of Concord's music family!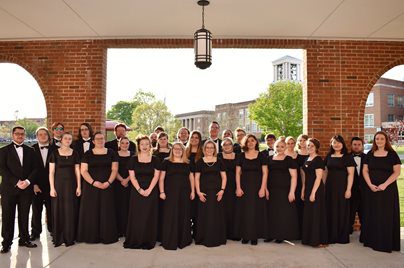 Degree Programs in Music
Our degrees are designed to prepare students for careers as public music educators, music entrepreneurs, independent music teachers, and performers, as well as ensuring students meet entry requirements for graduate schools.
The Music Program provides students the instruction, facilities, equipment, and opportunities necessary to develop their skills, abilities, and theoretical/historical perspectives in their chosen area of music specialization.
Auditions are not required for admission into the program. However, an audition is required for students wishing to be considered for performance-based scholarships.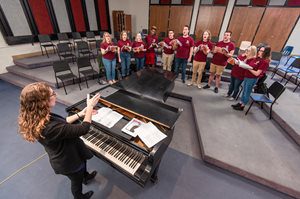 This degree program provides students with fundamental knowledge, skills, and licensure to teach general music, instrumental music, and choral music grades PreK-12. Students will take applied lessons, participate in ensembles, and take core music courses in theory, history, and teaching methods. The degree culminates with two semesters of teaching residency in a public school music classroom.
The Program is in full compliance with the standards of the Council for the Accreditation of Educator Preparation.

The Interdisciplinary Studies degree gives students the opportunity to design a course of study that includes music as an important component of their career or professional goals. This degree can lead to fulfilling careers in fields such as independent music teaching, arts management, music theatre, and music entrepreneurship. In addition to studies in music, students choose one or more complementary academic disciplines to fulfill their career goals including pre-approved tracks in theatre and business administration. Students also have the option to work with a faculty member to design additional areas of study.
This degree option gives students in any major an opportunity to take advanced studies in music. The music minor will enhance performance skills, understanding of music, and create opportunities to participate in or lead community music ensembles, church music, and/or teach independent music lessons. Students will take applied music lessons, participate in ensembles, and music theory courses.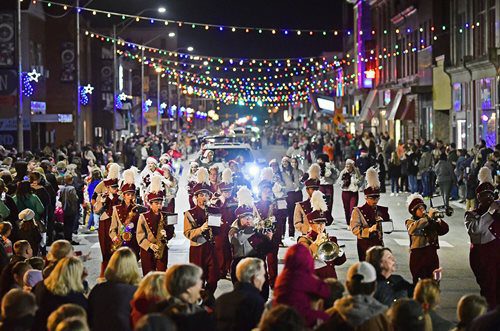 Photo by Jessica Nuzzo, Bluefield Daily Telegraph