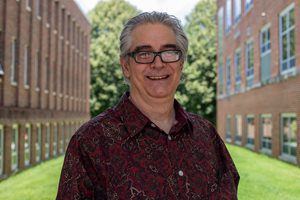 Popovich, Brad
Title: Assistant Professor of Chemistry
College: College of Science, Mathematics, and Health
Department: Department of Physical and Environmental Sciences
Phone: 304-384-6339
Discipline: Chemistry
Room: Science 402A
"*" indicates required fields
Biography
Dr. Popovich earned his bachelor's degrees in Chemistry and Psychology from Kent State University in 2010. He then worked as a Research and Development Chemist in the Silicone Industry in Akron, Ohio before returning to graduate school. He then earned his doctorate in Chemistry, with a Biochemistry Concentration from Kent State in 2022.
Education
B.A. Chemistry, Kent State University
B.A. Psychology, Kent State University
PhD. Chemistry/Biochemistry, Kent State University
Research
Dr. Popovich's research focuses on the use of gold nanoparticles and small molecule conjugates for delivery of metabolites, drugs, and biotracers to brain cells for therapeutic and diagnostic uses in neurodegenerative diseases.