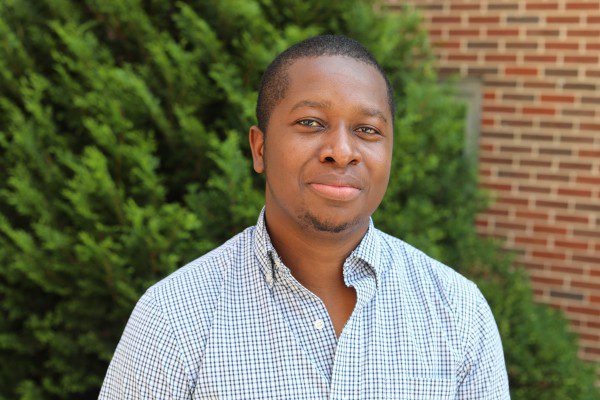 Tigaa, Rodney
Title: Assistant Professor of Chemistry
College: College of Science, Mathematics, and Health
Department: Department of Physical and Environmental Sciences
Phone: 304-384-5297
Discipline: Chemistry
Room: Science 401D
Box: F-19
"*" indicates required fields
Biography
Rodney Tigaa is an Assistant Professor of Chemistry at the Department of Physical and Environmental Sciences. He joined Concord in 2020 from St. Cloud State University and brings a passion for preparing the next-generation of leaders and for scientific discovery. Fun fact: the student population of his undergraduate institution was about half the size that of Concord's
Education
Postdoctoral Research Associate, Florida State University (2018 – 2019)
Ph.D., Lanthanide Chemistry, University of Nevada-Reno (2017)
B.S., Chemistry, Manchester University (2013)
Research
Think of the vivid colors displayed on your smartphone, flat screen TV, the lighting in your home, or the conversion of carbon monoxide to carbon dioxide by the catalytic converter of your car. Most of these technologies will not be possible without the f-elements! These elements possess unique and interesting optical properties. Our research aims to develop cheap, environmentally-friendly, and energy efficient f-element-containing materials for solid state lighting and catalysis applications. Participation in this research gives students hands-on experience in the synthesis of small organic molecules and nanomaterials. Students will also gain knowledge and technical skills through the use of NMR, infrared, UV-Vis absorption, and fluorescence spectroscopy instrumentation. Learn more here: Research Website
Publications
Tigaa, R.A.; Ortega, R.E.; Lin, X.; Strouse, G.F., 2021., A Versatile Tripodal Ligand for Sensitizing Lanthanide (LnIII) Ions and Color Tuning, Chemistry, 3, 138-145.
Abbett, R. L; Tigaa, R.A.; Sonawane, S. L.; Strouse, G. F.; Schlenoff, J. B., 2021, Hydrophobic versus Hydrophilic Polyelectrolyte Multilayers for Emissive Europium Films, ACS Applied Polymer Materials, 3, 691-698.
Tigaa, R.A.; Swapnil, S. L., 2020., An International Perspective: Teaching Chemistry and Engaging Students During the COVID-19 Pandemic, Journal of Chemical Education, 97, 3318-3321.
Hardy, D. A; Tigaa, R.A.; McBride, J.; Ortega, R.; Strouse, G. F., 2019., Structure–function correlation: Engineering high quantum yields in down-shifting nanophosphors, Journal of the American Chemical Society, 141, 20416-20423.
Hardy, D. A; Tigaa, R. A.; McBride, J.; Strouse, G. F. 2019., Breaking Latva's Rule by Energy Hopping in a Tb(III): ZnAl2O4 Nanospinel, Journal of Physical Chemistry C, 123, 31175-31182.
Tigaa, R. A.; Gary, J. L.; de Bettencourt-Dias, A., 2017., ZnS Nanoparticles Sensitize Luminescence of Capping-Ligand-Bound Lanthanide Ions, Inorganic Chemistry, 56, 3260-3268.